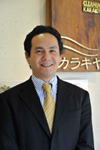 Karakiya We are in Takanawa, Minato‐ku since 1909.
Dry Cleaning and Laundry Delivery company.
Our service area is around Minato‐ku.

Delivery service: our staff will come to your home to pick up regularly or when you need. Please fill in application form below and send us back. I will contact you.
Services
Dry cleaning & laundry
Household items

Service hour is 8:00-17:00
Pick up hour is 9:00-17:00

Closed Every Sunday and National holidays

Call us :03-3445-0974
Payment
We submit a bill once a month.

You can pay by cash or by a transfer savings account.

Price list
Registration:デリバリー受付
Please enter your details below:

If you have any questions, please contact us.
デリバリーをご希望の方は、以下に必要事項をご記入の上、送信ボタンを押してください。
後程こちらからお電話いたします。
なお、ご質問・ご用命はご遠慮なくお電話下さい。
Please call us.
Cleaning Karakiya TEL:03-3445-0974